National Strategy for Financial Literacy 2020
The National Strategy details the federal government's financial literacy priorities and underscores its plan to collaborate with state, local, and tribal governments and the private sector to strengthen financial capability for all Americans.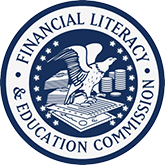 The Financial Literacy and Education Commission's vision is of sustained financial well-being for all individuals and families in the U.S. In furtherance of this vision, the Commission sets strategic direction for policy, education, practice, research, and coordination so that all Americans make informed financial decisions.