Public Meeting July 14, 2022
The next public meeting of the Financial Literacy and Education Commission (FLEC) will be held on July 14, 2022, from 9:30 to 11:00 a.m. Eastern Time. The meeting will be webcast here.
Under Secretary of the Treasury for Domestic Finance Nellie Liang will chair the meeting on behalf of Secretary of the Treasury Janet Yellen. The Vice Chair of the Commission, Rohit Chopra, Director of the Consumer Financial Protection Bureau will also participate.
You do not need to register to view the webcast. If you require a reasonable accommodation or communication access services such as Communication Access Real-Time Translation (CART) or sign language interpreters, please contact ReasonableAccommodationRequests@treasury.gov.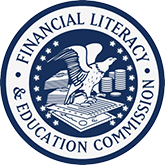 The Financial Literacy and Education Commission's vision is of sustained financial well-being for all individuals and families in the U.S. In furtherance of this vision, the Commission sets strategic direction for policy, education, practice, research, and coordination so that all Americans make informed financial decisions.